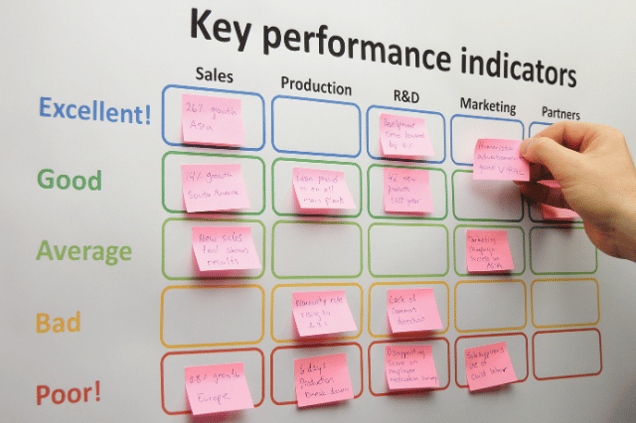 A Key Performance Indicator (KPI) is a type of measure used to demonstrate and evaluate how effectively a business is achieving its objectives against its strategic objectives. A KPI for your small business can keep you steadily on track and help you evaluate whether or not if your strategies are successful or not. Obviously, there is no one size fits all KPI for every business and they will change as your company's goals change. What you track will be based on your industry, what stage of your business you are in, the size of your business, etc.

For example, if you want to increase your overall sales 10 percent from the previous year, you have to create strategies to make it happen. Creating actionable steps that are clear and focused so you and your team can work towards them are key, and well thought out KPI's can help.

So, to establish KPIs to meet your business goals and objectives, practice the S.M.A.R.T method:

Specific: Create obtainable, tangible, objectives so you can see what needs to be done to improve.
Measurable: Create well-defined, measurable KPIs so they can be interpreted and analyzed, so you can adjust your future goals.
Achievable: Establish clear KPIs so you and your team can work towards meeting them. It can be improving sales goals, retaining customers, or any other goal that improves your overall profitability.
Relevant: Are your goals associated with your business and industry?
Timely: What is the timeline for reaching the goal?

Now that you have a general view of Key Performance Indicators, we want to share a few of the most important ones you should consider:

Gross Profit: Always keep track of the money you are taking in and the money you are spending, you may need to tighten your belt or generate more sales.
Accounts Payable: Keeping accurate records of all the business transactions is an important KPI. Some examples are paying suppliers, employees, rent, and utilities.
Market Share: Do research to see what is your position in the market compared to your competition.
Sales Funnel: Customers go through a series of steps throughout the buying process called the Sales Funnel. Some will convert into customers, others won't. Once you understand where the customers are dropping out, you can adjust your strategies.
Inventory: Always keep track of your inventory numbers.
Sales Margins: Keeping track of your sales each week is the basis of whether your flow in and flow out is healthy.
Revenue Comparison: Keeping track of your sales from year to year is important to stay in line with your growth goals.
As you can see, Key Performance Indicators can provide you with a clearer picture of where your business is now and where you want it to be.
Contact Infix
Need more guidance on how to use KPI's in your business? Ask us about it in your free 30-minute virtual coaching session. Just contact us at 949-484-6349 or fill out our online form.