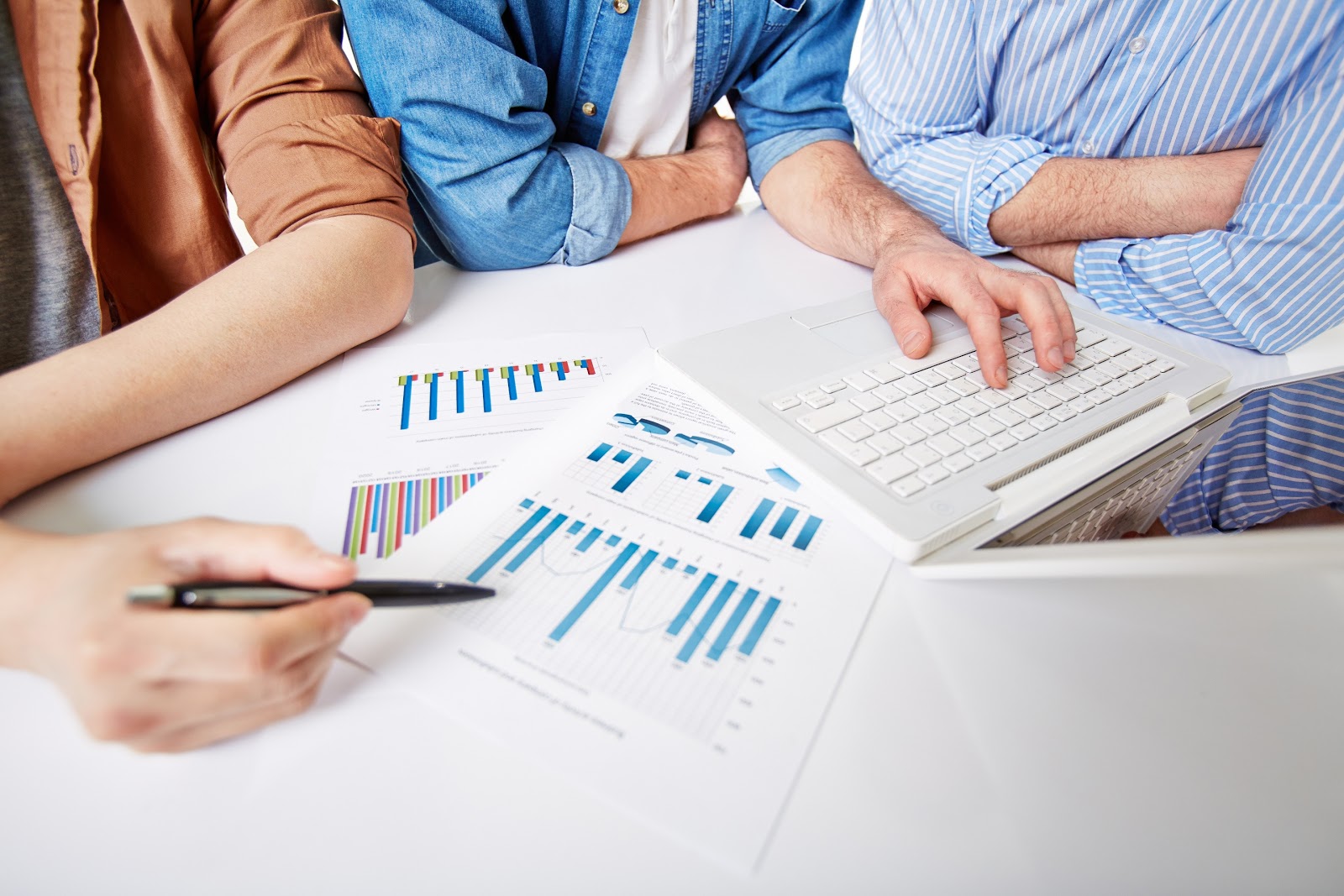 Business intelligence, or BI for short, leverages software and services to turn data into actionable insights, which in turn informs your organization's tactical and strategic business decisions. BI tools can analyze data sets, presenting analytical findings in summaries, reports, dashboards, charts, graphs and maps to give you detailed intelligence about the state of your company.
These quick, easy-to-digest insights about your company are pulled from available data, all hosted on dashboards that give you access to what your business looks like right now. It doesn't recommend action or suggest you do something or another. Rather, it's more of a reporting tool that gives you the information you need so you can make your own informed decisions about next steps for your small business. In a nutshell, it allows you to dive deep into the data so you can better understand trends and derive insights, thereby streamlining the effort required to search for, merge and query the data you need to ensure sound business decisions, says CIO.
Improving revenues using BI is the top objective companies are pursuing in 2020. To that end, the most strategic BI initiatives underway in enterprises today have to do with reporting, dashboards, advanced visualization, data integration, and end-user self-service, points out Forbes.
Advantages of BI
The collected data you receive from BI software may focus on a specific department, or it may give an overall view of your company's status. Large corporations with large amounts of data to process are the ones who will most benefit from business intelligence, though it can be beneficial for small businesses as well.
You can use BI to identify your most profitable customers, weak spots within your organization, or ROI on certain products. Although a companywide business intelligence system can be fairly complex and time-consuming to establish, its benefits can be pretty significant when implemented and used properly.
Here are the top benefits to business intelligence for your organization, large or small.
1. It Helps You Make Fact-Based Decisions
Once you have a company-wide business intelligence system in place, you're better able to see current, detailed data on all aspects of your business, from financial to production to customer data. With a report that has neatly synthesized all this information in a tidy dashboard, you can take that data and use it to make fact-based decisions, such as regarding which products to expand and which to discontinue.
2. It Helps You Improve Sales and Negotiations
A business intelligence system is no doubt a valuable asset to your company's sales force, as it provides up-to-the-minute reports pinpointing sales trends, product improvements, customer preferences and unexplored markets. This detailed data can also act as a valuable backup when it's time to negotiate with suppliers or vendors.
3. It Eliminates Waste
A business intelligence system identifies areas of waste or loss within your company that you may not have noticed before, especially if your company is on the larger side. Since a companywide BI system works best as a unified whole, it's able to analyze transactions between departments and subsidiaries to find gaps, areas of overlap or inefficiencies.
4. It Identifies Opportunities
Business intelligence helps you:
Assess your capabilities
Compare your strengths and weaknesses against competitors
Identify trends and market conditions
Respond rapidly to change
The information gleaned from a BI system helps key decision makers act fast – and properly -- in responding to opportunities, identifying your most profitable customers, and assessing the reasons for customer dissatisfaction before they cost you an important sale.
5. It Increases Organizational Efficiency
BI gives leaders in your organization a holistic view of operations, with the capability to benchmark results. When you spend fewer hours on data analysis and reports compilation thanks to BI, you are left with more time to use that valuable data to innovate new programs and products. After all, what good is it if you can't actually use the data you have to make efficient improvements?
This idea of benchmarking is an important one. Benchmarking is a valuable data analysis tool you can use to gauge your productivity, revenue and overall success relative to competitors. In today's climate, you need to be a fast thinker so you can make effective decisions. As the owner of your own business, you don't always have time to conduct large-scale research projects, but with access to BI software, it's like you have an in-depth research project in progress all the time that compiles information for you when it comes to groundbreaking decision-making.
If your organization has historically struggled with benchmarking, you will appreciate that BI simplifies the process, giving you actionable information with easy to understand reports that don't require an advanced degree in business to comprehend. This is why benchmarking is one of the primary factors you should consider when looking at BI platforms.
Benchmarking reports provide:
Accurate, timely data that allow you to evaluate your performance against trends over time.
Valuable insight into the current state of your organization.
Predictive analytics capabilities whereby users can take those benchmarks and use them proactively in an effort to get ahead of the competition instead of always racing to catch up.
6. It Gives You Faster Analysis Through Intuitive Dashboards
BI platforms handle the heavy-duty processing of data, pulling in data from many sources into a data warehouse, and then analyzing the data according to drag-and-drop reports, user queries, and dashboards.
The main benefit of BI dashboards is that they make data analysis easier and much more intuitive, giving non-technical users the power and resources to get a snapshot of the company without needing to know code.
7. It Helps You Find Patterns
BI analytics tools are extremely well-suited for powerful data mining capabilities. Data mining helps you seek patterns in data so you can identify trends, make inferences and draw insights. Depending on which type you choose, your BI platform can perform these steps:
Collection
Warehousing and storage
Organization
Analysis
Presentation
BI processes vast amounts of data that just can't be managed with weaker programs. It has to be robust enough to integrate with data warehousing solutions, in-house databases, and structured and unstructured data. As a result, this enables easy access to valuable information and augmented decision-making processes that you may have otherwise missed.
Because business intelligence software has the power to instantaneously analyze on-the-fly data, it can help you catch fleeting opportunities that may have gone under the radar, and pick up on trends in anything from company spending and staffing to operations and client development.
Gain a competitive edge…streamline operations…eliminate the guesswork…these are all ways you can use business intelligence to your advantage. In the end, you'll gain targeted insight into your organization's past, present and future so as to make better, more informed business decisions.
Contact Infix
Need more guidance on how business intelligence can drive you forward? Ask us about it in your free 30-minute virtual coaching session. Just contact us at 949-484-6349 or fill out our online form.